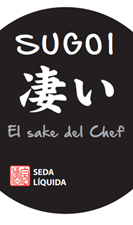 PRESENTATION
This sake has been created for being an easy, cheap and multi-purpose beverage as "sake of the house" in many restaurant menus.
For brewing it we have used gohyakuman goku and carnaroli rice as well as a mixture of different kinds of rice raised in Ebro Delta by the company Molí de Rafelet. This rice was lightly polished for facilitating the right water absorption. The water used in its brewing is a spring water coming from the snow and ice covered mountains around Tuixent, which is a low mineralization one, fully free of iron and manganese but with a small but necessary quantity of phosphorus, potassium, and magnesium.
This sake has been made, like all the other ones made by SEDA LÍQUIDA, following step by step the right Japanese technique. When it is finished it is filtered across different filters for getting a transparent and highly tasty liquid.
Finally, we mix it with active char for removing any pollutant and then we add a good quantity of alcohol which we get by distillation of the same sake and afterwards we dilute it with water till get the desired proof.
TASTING NOTE
SUGOI is a full bodied and very tasty sake, but at the same time is delicate, pleasant and easy to drink In the nose we found white flowers, banana and sweet pineapple and in the mouth we shall note a light taste of melon, sweet banana and tidbit. It has a good balance between umami and subtle tastes.
PAIRING AND SERVICE TEMPERATURE
The sake SUGOIhas been born for taking a sip after the first one. It is a 4W drive sake which combines with any kind of food as well as an appetizer or the mid-afternoon drink. Naturally, it can be the ideal ingredient of a tasty cocktail created by a smart bartender. Chilled at about 9ºC it has to be served in elegant glasses like the sherry ones but if it is served warm, then we suggest to serve it in thick terracotta bowls like those ones named ginomi by the Japanese people.